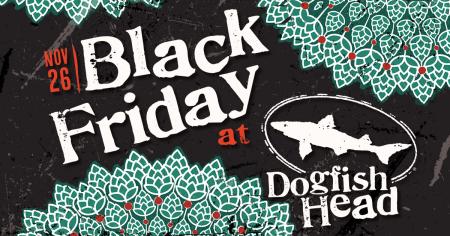 Black Friday is here! And so are our deals:  
Buy a $100 gift card and get a $50 gift certificate (redeemable at Brewings & Eats, Chesapeake & Maine, Milton Tasting Room & Kitchen, Dogfish INN and Dogfish Head Miami)  
Free phone grip with in-store purchase (While supplies last) * 
20% off all regularly priced merchandise (does not include beer & spirits) * 
DJ & Giveaways 
But the Black Friday fun doesn't stop there! There are also some delectable beer releases happening!
Life Trust: A holistic blend of barrel-aged sour ale and estate-grown apple juice made with our pals at Angry Orchard. Clocking in at 6.6% ABV, these 375 mL bottles are priced at $10 each. To grab a bottle (or two!), stop by our Milton Tasting Room & Kitchen shop starting at 3 p.m.
Maple Harvest Spiced Flavor Rum: A limited-edition innovation from Dogfish Head Distilling Co., available at both our Rehoboth and Milton locations starting Black Friday! A barrel-aged rum sweetened with a touch of New England maple syrup and infused with a medley of spices, this bottle is perfect on its own as a gift. Enjoy neat or add it to a favorite holiday cocktail, like a hot toddy or eggnog. Folks can find this tasty libation at our Off-Centered EmPOURium in Rehoboth or our Merchandise Shop at the Milton Tasting Room & Kitchen for $30 per 750 mL bottle.
Don't miss out on this exclusive release from our Rehoboth brewpub on Black Friday as well!
Chicory Stout: This fan-favorite is making its much-anticipated return. A rich, dark brew with a touch of roasted chicory and licorice root, this smoothed-out stout is brewed with organic Mexican coffee beans roasted by local Rise Up Coffee. It features a deep and complex flavor with a bone-white head. Clocking in at 5.2% ABV, shoppers can pick-up a 16 oz. can 4-pack at ourOff-Centered EmPOURium in Rehoboth starting at 12 p.m. for $16 each.