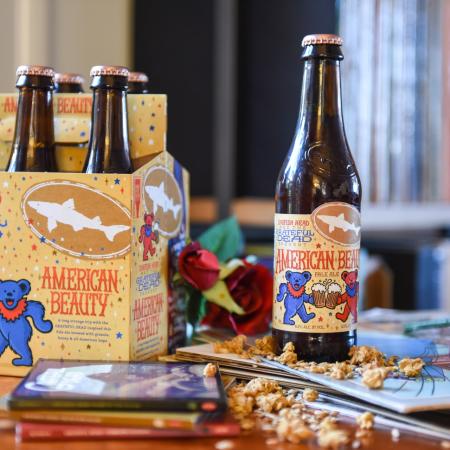 **SOLD OUT**
Whether you devoured your fair share of burritos in the parking lot, hitchhiked your way to a show or traded bushels of fresh clementines for tickets, there was something special about a Grateful Dead show and the memories that came with it. If only you could have bottled the magic …
And bottle it we did. Brewed with granola and succulent wildflower honey, American Beauty is a hoppy pale ale that we first brewed back in 2013. A collaboration with the Grateful Dead, we recently got the band back together, releasing this psychedelic fan-favorite in 6-packs of 12 oz. bottles for the first time ever!
To celebrate the return of American Beauty and our longtime collaboration with the Grateful Dead, we're hosting a beer dinner of epic proportions on Friday, Feb. 8, featuring David Lemieux – the band's audiovisual and legacy manager.
Dinner guests will enjoy a four-course, American Beauty Experience, complete with Grateful-Dead inspired dishes (curated by our Brewings & Eat kitchen team and David), a myriad of off-centered libations and live music by High Tied Sideshow – central Pennsylvania's favorite Grateful Dead cover band.
Dogfish Head founder and CEO Sam Calagione will lead the beer experience, fielding questions from guests, along with David Lemieux.
---
Tickets are $85* (per person), and include four courses, four complementary brews, a crowler to go of our brewpub exclusive Faithful Companion AND an exclusive event poster signed by David himself. Click HERE to purchase your tickets!
*Ticket price includes crowler and gratuity.
Guests can purchase individual seats or a whole table for this beer dinner. Full tables are available with seats of 2, 4, 6 and 8. Please note that there is a lower level and upper level, as well as seats available at the main bar and pizza bar. Note: Not all bar seats directly face the stage.
"CHOOSE YOUR OWN SEATS" IS NOT AVAILABLE ON A SMARTPHONE OR TABLET. GUESTS WISHING TO PURCHASE INDIVIDUAL SEATS OR A WHOLE TABLE MUST VISIT THIS LINK VIA A LAPTOP OR DESKTOP COMPUTER TO CHOOSE THEIR SEATS. IF YOU ARE USING A SMARTPHONE OR TABLET, YOUR SEAT WILL BE AUTOMATICALLY CHOSEN FOR YOU AND MAY BE COMMUNIAL SEATING.

If you are ADA, please reach out to us to secure your seating.
SEAT GUIDE:
Tables with 8 seats:
- Tables 21, 23, 31, 33
Tables with 6 seats:
- Tables 14, 44, 51, 52, 53
- Booth 1, 2, 3, 4 & 5
Tables with 4 seats:
- Tables 11, 13, 41, 43, 64
Tables with 2 seats:
- Tables 12, 22. 32, 42, 54
- Booth 6, 7, 8, 9, 10
Single seats:
- Bar & Pizza Bar

Note: When ticket quantities get low, guests may choose individual seats at larger tables and communal seating is possible.
---
Check out the menu:
1st Course – Streetcar Rolls – Cabbage/red pepper/ginger/grilled pineapple/smashed avocado/sweet and sour sauce
Pairing – Faithful Companion – Faithful Companion is a light and refreshing ale steeped in tradition and goodness. Smelling of inviting citrus and light caramel, it offers the promise of great flavor to come. It's light on the palate with an artfully balanced blend of caramel malt sweetness, citrusy hop and easy bitterness, and has a clean, dry finish – 4.2%
2nd Course – Fresh Catch Poke Bowl – Brown rice/avocado/roasted cauliflower/red beets/baby kale/spicy yogurt sauce/radish/fresh catch
Pairing – Covered in Nuggs – A classically dank, piney and citrusy beer that scratches every nook and cranny of that IPA itch! With a delicious, sturdy base of Golden Promise malt, we piled on the Citra, Simcoe, Amarillo and Centennial hops to build up a sticky heap of lupulin goodness! – 6.7%
3rd Course – Butternut Burrito – Jack-goat cheese/butternut squash/poblano pepper/black beans/corn/arugula/rice/salsa Verde
Pairing – American Beauty – Originally released in 2013, American Beauty is a collaboration with the Grateful Dead. A hoppy pale ale, brewed with granola and succulent wildflower honey, it's got sweet, malty and toasty notes with floral aromas of citrus, marzipan, honey, and melon – 6.5%
Dessert – Tie Dye Cheesecake
Pairing – Sonic Archeology Prohibition Cocktail – A blend of Dogfish Head Whiskey, Rum & Apple Brandy with honey, real lemon and pomegranate juices. Served on the rocks.