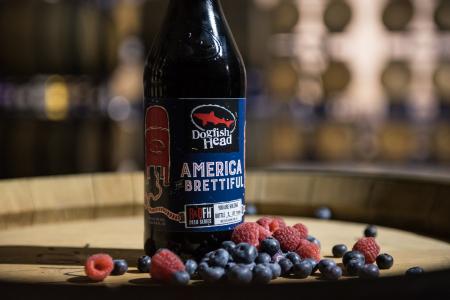 In celebration of American Craft Beer week, we're coming at you with another limited 750ml bottle release! On Saturday, May 19 beginning at 11 a.m., we're releasing 700 bottles of a new, limited-edition sour beer – America the Brettiful.
Clocking in at 8% ABV, American the Brettiful is a fruit-forward, barrel-aged American wild ale brewed with Pils malt, wheat, oats and spelt. After adding raspberries, the beer is then aged in red wine barrels with Brettanomyces bruxellensis and lactobacillus for nine months! It's finished off with fresh blueberries and refermented with a Belgian saison yeast. Softly sour with bright berry notes and a mild brett funk, America the Brettiful is truly Red, Wild and Blue!
Bottles are $20 each and will be sold on a first come, first served basis. Limit of 5 bottles per person. We've gotta share the goodness, folks!