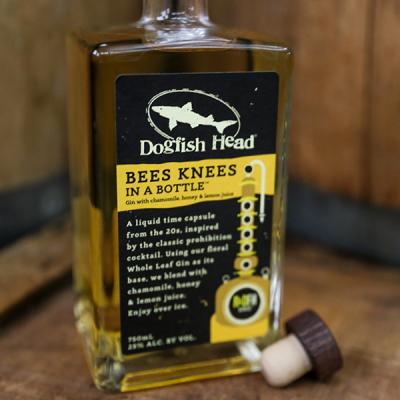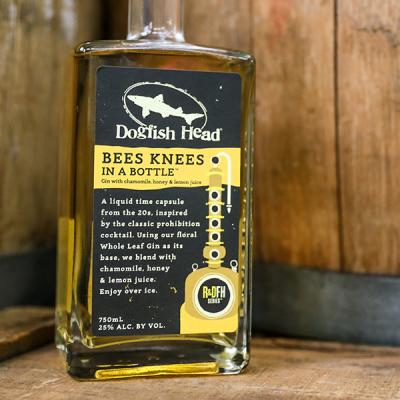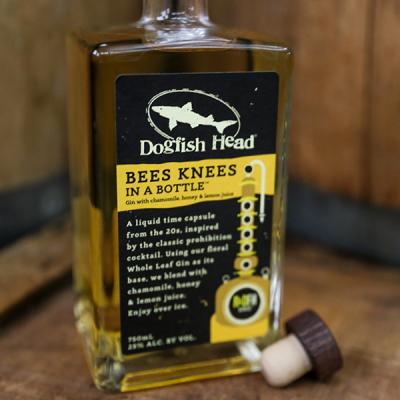 Bees Kness In A Bottle
A liquid time capsule ready to unlock, just add ice!
---
Ingredients:
Chamomile, honey, lemon juice
---
Availability:
Dogfish Head Properties Only
---
Tasting Notes:
Bright dandelion yellow with a floral, honey & citrus aroma. Flavors of  lemon, honey sweetness, floral & earthy.
---
A liquid time capsule from the roaring 20s, Bees Knees In A Bottle is inspired by the classic prohibition cocktail. "Bees Knees" was old-timey-talk for saying it's the best of the best. Now we have captured that timeless cocktail, transforming it into a ready to drink cocktail, pour over ice.
Using our scratch-made and floral whole leaf gin as its base we blend with chamomile, lemon juice and raw , unfiltered honey from our friends over at Stone Barn on the Eastern Shore - for a bright lemon honey sweet cocktail – simply enjoyed over ice !
Sold exclusively at Chesapeake & Maine, Milton Tasting Room & Kitchen and Rehoboth Beach emPOURium.